"The Big Kiss Off with Boys"

Season 1, Episode 8

Information
Air Date

November 18, 2011 (CAN)
2012 (USA)

Production code

101

Writer(s)

Gracie Glassmeyer & Steven James Meyer

Director

Steve Wright

Episode Guide
Previous
Next
The Big Kiss Off with Boys is the eighth episode in Season 1 of Life with Boys. It first aired on November 18, 2011 in Canada.
Allie and Tess accidentally send an embarrassing photo of Sam to everyone in school. To limit the damage, Allie agrees to go out with Sam in hopes that she can boost his image again. It was a good plan - but Sam worries it will only make things worse. Meanwhile, there are concerns about the administration's new neighb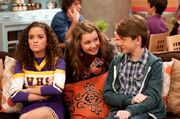 or and Jack has an eyesore.
Ad blocker interference detected!
Wikia is a free-to-use site that makes money from advertising. We have a modified experience for viewers using ad blockers

Wikia is not accessible if you've made further modifications. Remove the custom ad blocker rule(s) and the page will load as expected.