Spencer Foster

[[Image:
Information
Full Name

Spencer Jeremy Foster

Nickname(s)

S

Gender

Male

Date of Birth

August 1st 2004 (age 10)

Resides in

Ontario

Occupation

Student

Eye Color

Brown

Hair Color

Brown

Family

Jack Foster (father)
Tess Foster (sister)
Gabe Foster (brother)
Sam Foster (brother)
Helen Foster (grandmother)

Friends
Affiliations

Kids, Foster family

Production
First Episode
Portrayed By
Spencer Foster
(born 2004) is the youngest of the
Foster family
. He is a ten (10) year old, precocious scary-smart, and uses these tools to his advantage. His older brother Gabe is his "idol", and he always seeks out his advice. He constantly copies what his older brother Gabe is doing and usually makes him do the right thing by telling him he looks up to him. He sometimes teams up with Gabe to pull pranks or to get him out of one
Birthdays with Boys
.
He is portrayed by Jake Goodman.
Relationships
Edit
(2004-Present;brothers) Out of all his siblings Gabe seems to share the strongest bond with the youngest Spencer. The two seem to be together constantly and hang out. Spencer looks up to Gabe as a role model and Gabe loves teaching him. Gabe seems to acknowledge that Spencer is a genius and incredibly smart. Gabe is also very sweet to him, taking him out for pizza, ice cream ect. after beating him in a game. Of course, Spencer lost on purpose so he would do that...
Every Thursday he gambles for candies and Jack does not know that he does.
He is good at playing cards.
can perform CPR at any given moment
He knows where babies come from, mentioned in Working Like A Dog With Boys.
Perfected the 18 second 1 arm handstand
Spencer, despite his maturity, is afraid to sleep on his own.
Bushido Master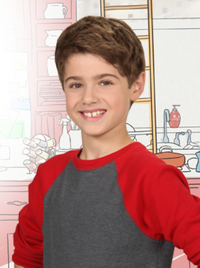 Ad blocker interference detected!
Wikia is a free-to-use site that makes money from advertising. We have a modified experience for viewers using ad blockers

Wikia is not accessible if you've made further modifications. Remove the custom ad blocker rule(s) and the page will load as expected.