"Chrisbus with Boys"

Season 1, Episode 9

Information
Air Date

December 9, 2011 (CAN)
December 28, 2012 (USA)

Production code

112

Writer(s)

Michael Poryes

Director

Stefan Scaini

Episode Guide
Previous
Next
"Chrisbus with Boys" is the ninth episode in Season 1 of Life with Boys. It first aired on December 9, 2011 in Canada and on December 28, 2012 on TeenNick in the United States.
Tess and her brothers find their Christmas plans wrecked when Jack announces that he wants them all to surprise Grandma for Christmas.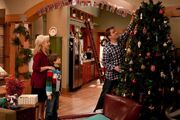 The boys go out skiing for Christmass whil Tess goes on vacation with Allie however as they are leaving they see Jack Foster lift Spencer up so he can put the star on the tree and they all have flashbacks to when they were kids and their dad this to them. Eventually they all do the right thing and stay home