"Bathroom Battles with Boys"

Season 1, Episode 11

Information
Air Date

March 9, 2012 (CAN)
Feb. 13, 2013 (USA)

Production code

118

Writer(s)

Douglas Lieblein

Director

Stefan Scaini

Episode Guide
Previous
Next
"Bathroom Battles with Boys" is the eleventh episode in Season 1 of Life with Boys. It first aired on March 9, 2012 in Canada and aired on Feb. 13, 2013 in the U.S.
Each morning there is disagreement within the Foster family over the bathroom. Poo. In order to end the quarrel once and for all, Jack decides to set up a private bathroom for Tess. However, Jack has to take a second job in order to pay for the construction costs. Tess feels Happy and wonders if another bathroom is enough,
This was the first episode to air in 2012, after a 3 month hiatus.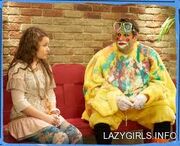 Ad blocker interference detected!
Wikia is a free-to-use site that makes money from advertising. We have a modified experience for viewers using ad blockers

Wikia is not accessible if you've made further modifications. Remove the custom ad blocker rule(s) and the page will load as expected.